New Patients at Family Chiropractic of Fairfax: My Family Wellness Center
Your First Visit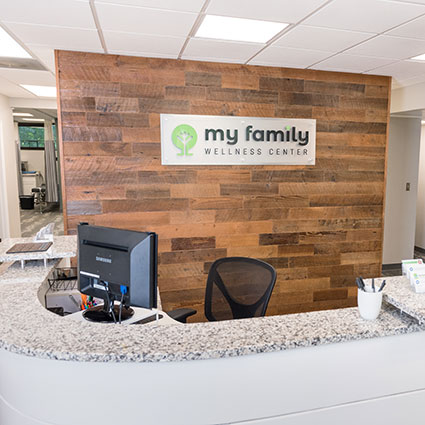 We want you to feel as comfortable as you can as you begin care with us. We find that it helps to reduce any apprehensions about "going to the doctor" by letting you know what you can expect when you enter our office for your first visit. So here we go.
When you enter Family Chiropractic of Fairfax: My Family Wellness Center you will be greeted, by name, and with a cheerful hello (because we'll be expecting you and we like to smile). Hopefully, to save you time, you brought along the necessary paperwork you filled out which you downloaded from our website.
One of our staff members will review the information you bring in to confirm that we will have all the information necessary to provide to the doctor and to file any insurance claims on your behalf. We appreciate and respect that your time is valuable and so we do all we can to keep to our appointment schedule (and pretty much keep on schedule all the time).
Care Tailored Just for You
When all your information is checked, you will be walked to our consultation room where you will meet either Dr. Dennis or Dr. Lisa who will talk with you about your health history and present health concerns. The doctor will then show you to the examination room where you will get into a gown.
The examination is very thorough and involves both state-of-the-art diagnostic equipment including spinal thermography and surface EMG along with postural x-ray evaluation, blood pressure, heart rate and complete physical examination. If your condition requires additional evaluation, our doctors will refer you to the appropriate professionals.
Once the examination is completed the doctor will spend time evaluating the results and formulating a care plan for you.
We Can Help
Depending upon your reason for coming to our office, the doctor may advise you on immediate treatment recommendations. The following day you will be scheduled to go over the complete results of your examination (report of findings) and the doctor's care plan recommendations for you. If we feel we can help you, you will begin receiving treatment following this report of findings.
Call our Fairfax chiropractic office today!
CONTACT US »
---
New Patients at Family Chiropractic of Fairfax: My Family Wellness Center | (703) 273-7733