Health Coaching
Feel Your Best
Our health coaching practice is a unique and fascinating blend of eating psychology, holistic nutrition, mind-body science, body centered practices, transformational disciplines, and practical techniques that provide a powerful foundation for life-long success.
We cater to individuals and groups that are experiencing challenges with:

Weight Issues
Body Image
Overeating
Compulsive Eating
Chronic Dieting
Digestive Challenges
Mood Concerns
Energy and Fatigue
Immunity
Nutritional Confusion
Unwanted Eating Habits
Nutrition-Linked Health Complaints
About Debra Dennis' Training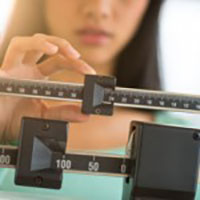 With a Masters in Nutrition and Health Science, I was trained at the Institute for the Psychology of Eating, the world's leading school in Nutritional Psychology where I received my certification as an Eating Psychology Coach & Teacher. In IPE's internationally acclaimed program, I learned powerful cutting-edge tools and protocols that enable me to work with weight issues, body image challenges, overeating, binge eating, and a variety of nutrition related health concerns such as digestion, fatigue, mood, immunity, and others.
My work combines the powerful new fields of Dynamic Eating Psychology and Mind-Body Nutrition. The skills I use from this training are a combination of practical coaching techniques, results-oriented psychology, clinical nutrition, body-centered practices, mind-body science, and a positive and compassionate approach to challenges with food and health.

Common Questions
Eating Psychology Coaching is an exciting and cutting edge approach developed by the
Institute for the Psychology of Eating
. It effectively addresses weight concerns, binge eating, overeating, body image challenges, and various nutrition related health concerns.
As an Eating Psychology Coach, my approach is positive and empowering. I don't see your eating challenges merely as a sign that "something is wrong with you" – but as a place where we can more fully explore some of the personal dimensions in life that impact food, weight and health. Oftentimes, our eating challenges are connected to work, money, relationship, family, intimacy, life stress and so much more. By working on the places that are most relevant for you, success is more easily achieved. As an Eating Psychology Coach, I look to support you with coaching strategies and nutrition principles that are nourishing, doable, sustainable, and that yield results.
For far too long, we've been inundated by negative messages about food, weight and diet. We've been told that we're willpower weaklings or that we need more control. The majority of nutrition experts promote conflicting advice. The result is people are confused about what to eat, and how to have a happy relationship with food and a healthy metabolism. In my professional practice, I combine many of the best strategies from nutrition science and eating psychology. By eliminating all the "shoulds and shouldn'ts", I focus on what's right for your body and your personal style.
As we work together in this way, eating and health issues become a place of exploration. Instead of seeing such challenges as the enemy, they become opportunities for growth and self-improvement. In my training at the Institute for the Psychology of Eating, I've learned to help clients reach their highest goals not by strategies that punish, but through strategies that nourish.
Dynamic Eating Psychology
is an important new field originated by Marc David, Founder of the Institute for the Psychology of Eating. It's a positive, empowering and transformational approach that's designed for anyone who eats. Each of us has a unique, fascinating, and ever changing relationship with food. Dynamic Eating Psychology affirms the primary importance of this relationship. It sees our challenges with eating, weight and health not as an indication that we're broken, but as a beautiful opportunity to grow and evolve.
Previously, eating psychology has been limited to those with clinical eating disorders. Dynamic Eating Psychology though, is for everyone. It affirms that our relationship with food has important lessons to teach us if we choose to listen. And it recognizes that our challenges with eating, weight and health are intimately connected to other primary life dimensions – relationship, family, work, sexuality, our search for meaning and fulfillment, and so much more. Dynamic Eating Psychology is a powerful breakthrough approach.
Mind-Body Nutrition
is an exciting and timely new field that advances the practice of clinical nutrition by exploring the psychophysiology of how thoughts, feelings and beliefs impact nutritional metabolism and health. Originated by Marc David, Founder of the Institute for the Psychology of Eating, it goes far beyond classical nutrition by focusing on the fascinating connections between brain, body, and behavior.
Simply put, what we eat is only half of the story of good nutrition. The other half is who we are as eaters. Mind Body Nutrition reveals how stress physiology, the relaxation response, breathing, awareness, pleasure, meal timing and much more profoundly influence digestion and calorie burning. And it offers practical and results-oriented strategies for the most commonly seen eating challenges and health issues of our times.
Extraordinary Results in a Practitioner-Monitored Program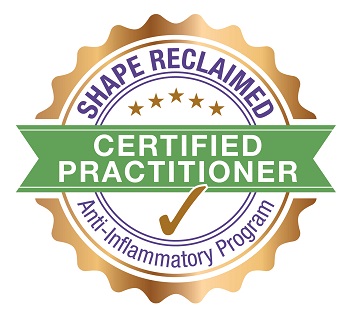 SHAPE ReClaimed™ is a safe, effective nanomolecular dietary supplement created to decrease total body inflammation, enhance immune function, detox and cleanse-all while reducing excess weight.
SHAPE ReClaimed is developed out of decades of clinical experience and is the foundation of our program. What we've discovered is that the synergistic combination of ingredients in SHAPE ReClaimed™, along with our total wellness program, is having astounding transformative health benefits. The result, in addition to weight loss, is a reenergized, revitalized you!
It must be emphasized that SHAPE ReClaimed is practitioner-supervised and one part of an overall successful wellness approach and philosophy. It is not a "magic bullet" but when incorporated into the program's protocol, along with sound lifestyle choices, the results are truly life changing.
Food is Medicine
This program shines a spotlight on negative eating habits that contribute to common health challenges.

SHAPE ReClaimed Benefits
Reduce Inflammation
Enhance Immune function
Detox and Cleanse
Enhance Metabolism
Safely Release Excess Toxic Weight
Decrease Pain
Improve Digestion
Increase Energy
Improve Sleep
Decrease or Eliminate Rx Dependency (With Practitioner Supervision)
Improve Blood Sugar, Blood Pressure and Blood Lipids
Improve Mood and Mental Clarity
Create and Maintain a Healthy Relationship with Food
SHAPE ReClaimed Features
Lifestyle Modification and Health Restoration Program
Healthy Anti-Inflammatory Nutritional Plan
SHAPE ReClaimed™ Nanomolecular Formula
The Complete Patient Guidebook
Consistent Monitoring Appointments for Urine Evaluation
Patient Education Tab at www.shapereclaimed.com
Access to Facebook "official SHAPE ReClaimed Support Group"
Safe, Affordable and Sustainable Lifestyle that Supports Healthy Weight
SHAPE ReClaimed Program Includes:
Initial Consult and Evaluation for SHAPE
Discussing Your "WHY" for Choosing SHAPE
Customizing the Program Based on Your Health History, Progress, Symptoms and Laboratory Results
Regular Monitoring, Which is Important for Your Long-Term Success
Disclaimer: Independent SHAPE Practitioner's Website is not owned or operated by SHAPE ReClaimed, LLC. Any content outside SHAPE ReClaimed webpage is not acknowledgement or expressed position of SHAPE ReClaimed, LLC.
What is an essential oil?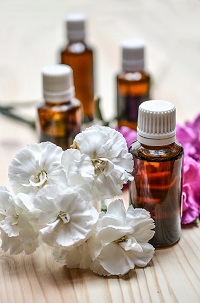 Essential Oils are made from plants for physical and emotional benefits. They are distilled from leaves, flowers, tree bark, seeds, or rind of fruit in concentrated amounts. Typically one drop of a dōTERRA® essential oil has a powerful effect making them affordable at just pennies per use! View a short video clip introducing essential oils.
How do I use essential oils?
You will soon learn that there are hundreds of ways to use dōTERRA® essential oils, including relaxation, personal hygiene, household cleaning, cooking, and supporting a healthy body. Every oil has at least one of three application methods: Aromatic, Topical, or Internal.
For Aromatic Use ~ Breathe in or use a diffuser to open up airways, improve mood, or freshen the air.
For Topical Use ~ Use a carrier oil when applying to bottoms of feet or affected areas to target specific needs.
For Internal Use ~ Drop in water, under tongue, or in veggie capsule to support mouth, throat, digestive system, or overall health.
What are some basic safety tips?
Photosensitivity – No sunbathing after applying citrus essential oils. Citrus oils are sensitive to the sun since they are made from the rind of fruit. Avoid direct sunlight to the exposed area for at least 12 hours of that location may have a skin irritation or burn. Oils applied underneath clothing should be fine.
Hot Oils – If it starts to burn, skip the water. Use a carrier oil or whole fat milk. Because essential oils don't mix with water, applying water to the area can actually drive the burn in deeper. Ouch!
Avoid These Areas – Never put essential oils in your eyes, inside ear canal, or up nose. However, you may apply oils around the eye bone in a C shape, on ear cartilage and behind ear bone, or diffuse essential oils.
Dilution - Use a carrier oil such as fractionated coconut oil when applying essential oils topically to avoid skin sensitization.
Safe Storage – The majority of all adverse reactions to essential oils by children have been as a direct result of accidental overdose and ingestion in large amounts. Keep out of reach of children. Use child proof safety caps.
Explore Nourishing Essentials
---
Health Coaching Fairfax VA | (703) 273-7733